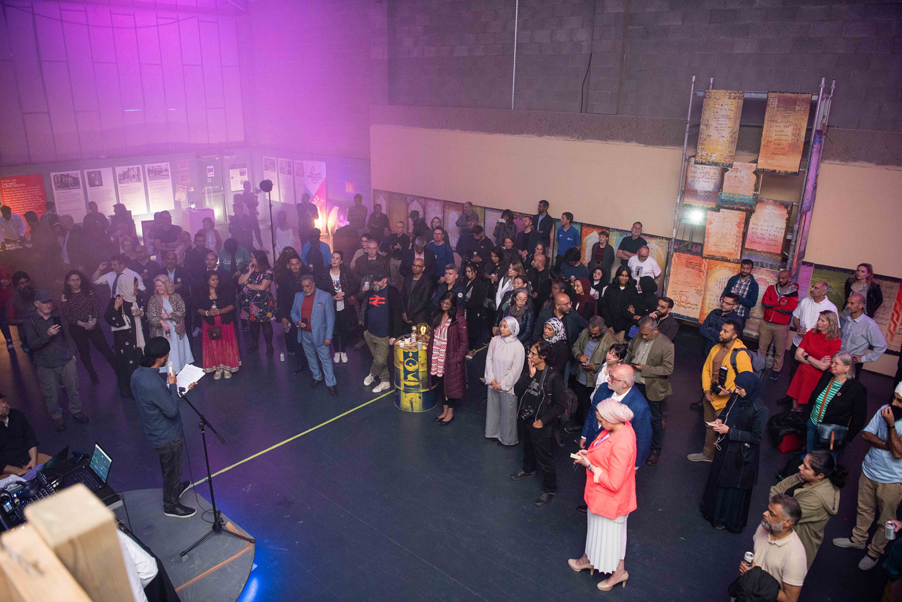 On June 30th 2022, we welcomed creatives from across the country to our new project base and the new home of Soul City Arts. It was an epic moment of gathering and sharing for a major new commission called 'Waswasa' part of the Birmingham 2022 Festival for the Commonwealth Games.
It has been quite a journey for us, from the first Hubb arts space that we launched in 2010 next to the Aldi carpark in Sparkbrook to this huge industrial warehouse. We have transformed an inner-city space into a creative and spiritual oasis. We are excited to have welcomed creatives and community champions from across the city and country into our new home. This is just the beginning of a new chapter.
Mohammed Ali, Artistic Director of Soul City Arts and brainchild of Waswasa said, "After decades of pushing the limits of how we present community stories, we now enter a new phase.  We tell the stories of everyday people in extraordinary form.  The community is at the forefront of what we do, not an afterthought. We're looking forward to people seeing our most ambitious show to date".
A big thank you to all of our passionate speakers who took to the stage to talk about Soul City Arts and Waswasa. The event was a cultural and creative melting pot with many creatives from across the country connecting with a call to action to get ready for Soul City Art's new show. 
Speakers and collaborators included:
Bhanu Dhir –  Chair of Soul City Arts
Martin Green – Chief Creative Officer of the B2022 Commonwealth Games
Helga Henry – Development Consultant at Soul City Arts
Chris Sudworth – Director of Artistic Programming at Birmingham Hippodrome
Dr James Hodkinson – University of Warwick
Prof Corey Ross – University of Birmingham
Kathryn Irrgang – Presenter at Islam Channel
Hasan Mahamdallie – Director of Waswasa
Performance by Cleveland Watkiss – Ivor Novello Awardee and SCA Collaborator
Hosted by Manpreet Darroch – Creative Producer at Soul City Arts.
Food was provided by our resident chef Munayam Khan of Raja Monkey.
The energy around Waswasa is palpable as we prepare for a 9 day showcase of performance and experiences at the Birmingham Hippodrome 25 August – 3rd September 2022. Tickets are on sale now at bit.ly/waswasa.
For those who wanted to be there but couldn't, you can check out the action on our socials or track the buzz through the hashtag #WaswasaShow.