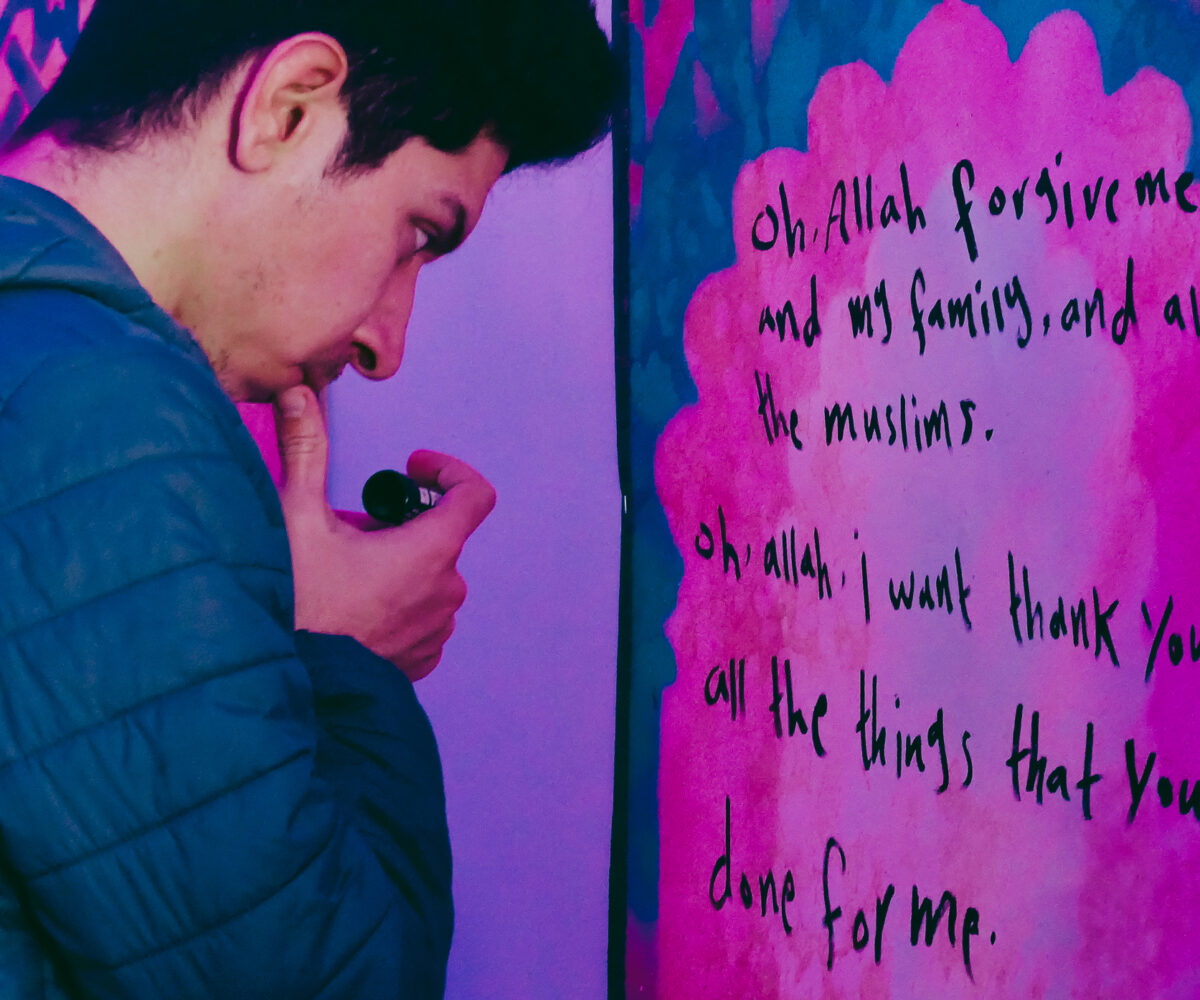 With the fight to get our new space now won late in May 2022, the SCA Team had to move quickly to transform a functional warehouse into a hybrid working and arts space. The new premises had to serve as a making space for us to build the set for Waswasa over the coming summer.
Yet, throughout June, they would also serve to host communities, artists, students, and arts leaders for a series of events that would explore, explain, and enthrall in equal measure, as we developed and marketed our new show. Of all these events, it was our 'prayer mat' workshops that were the most intimate and, arguably, the most crucial undertaking, for they served to unlock and preserve the thoughts and prayers of local community members and place them at the heart of the project.
Our community visitors arrived in an already atmospheric space, which was beautifully lit and suffused with gentle ambient sound: our guests were going to join us in the artistic making process, but we did not thrust them into a grubby studio. They were already part of a performance and immersed in the show's aesthetics from the outset.
They were already part of a performance and immersed in the show's aesthetics from the outset. They were served fantastic Bengali soul food by our resident chef, Munayam Khan of Raja Monkey. Once fed, conversation already began to flow, though a short screening of some of Mohammed's pilot films, the Global Call to Prayer and the Power of Legacy, served to focus thoughts on the experiences of prayer
Our facilitators, Zobia Arif, Jennifer Eggert and Sofia Ayub carefully led conversations, tother with James Hodkinson (SCA and Warwick University), asking people to consider what prayer meant to them, how they struggled to focus on it (distracted by the many whispers of the modern world – the Waswasa of the time) and what they gained from it.
They were asked, finally, to think of their own duahs or prayers, and encouraged to make them as personal as they could. These were either written directly onto mocked-up prayer mats prepared in advance by SCA's artistic team or slipped into a confidential duah box to be written up later. The mats will be hung, lit and will form a wonderful transitional space into the performance area of the Waswasa show in August at the Birmingham Hippodrome.
Run during weekdays, in evenings and at weekends, our workshops attracted diverse community members: locals from the South-Asian Muslim communities, refugee groups from Syria, Iraq and Afghanistan, women's groups, Muslims of African heritage and white converts alike.
Mohammed Ali, Soul City's Artistic Director, says we live in an age where distractions are ever more present.

"In yoga or meditation, or even making music or art, we are all striving to find that pure state of focus and it's increasingly hard in the modern world. Technology is a form of Waswasa. It's a form of distraction that pulls us away. These things that buzz in our pockets. We're always kind of charged."


Raidene Carter, Birmingham 2022's Executive Director, described Waswasa as a seminal project for the city.

"Mohammed is a proud Brummie and Muslim and this project emphasises that people from across the Commonwealth are connected through their faith."
To be sure, anyone, Muslim or not, booking to see Waswasa this August will see a host of prayers before them – one which reflects the rich diversity of those communities SCA works so hard to represent.