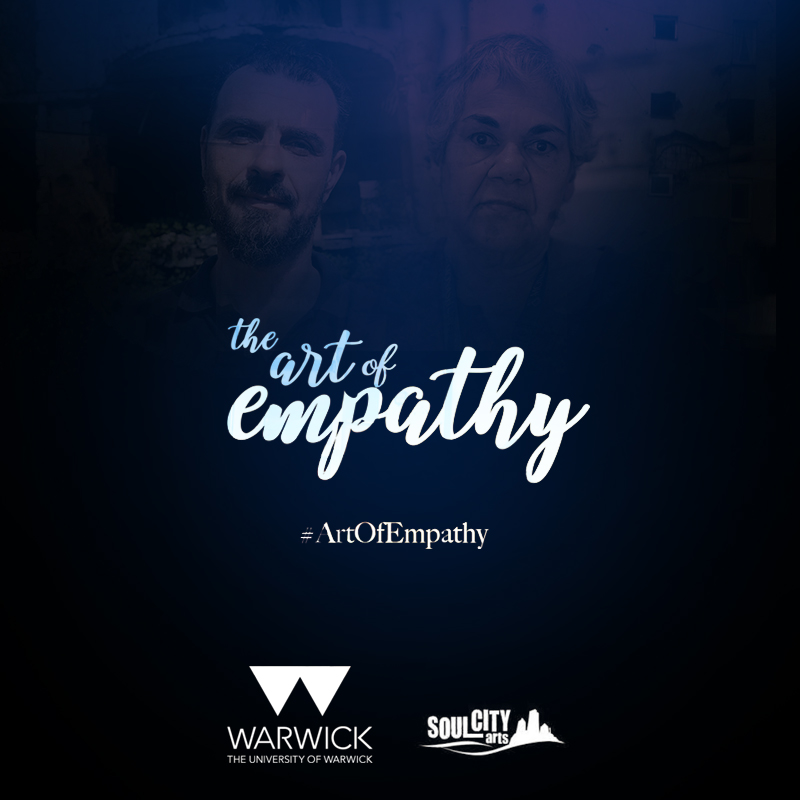 Over several years of project development, we worked with Dr James Hodkinson of Warwick University to deliver a wide-ranging arts programme. James's research looked at historical representations of Islam in Germany and as well as themes of division and opposition, his work uncovered traditions of cross-cultural empathy – all embodied in the huge stone chairs of a monument in Weimar Germany. How could we make these ideas deliver benefits for communities today.
In keeping with the message of the two chairs, we used our tried and tested formats of 'Hubb Debates' and 'Tru Stories' to engage communities and schools. We gathered narratives of people's experiences of segregation, mutual alienation and dehumanization, though also of how moments of empathy had changed those experiences. We collated these stories locally, from Birmingham, and globally, from Srebrenica and Melbourne and wove these together into a short film. We also worked with painter Mohsen Keiany, who painted a cycle of works responding to themes of dehumanisation in war and conflict, and exploring how moments of empathy might offer a way out of cycles of violence and trauma.
In summer 2019, we took over the Paradise Street multi-storey car park in central Birmingham. We repurposed an otherwise ugly space to run an event that drew together the various strands of the project. Mohsen's painting were shown throughout the day as a talking point. By sunset we had created a signature immersive space, laying carpet for sitting, lighting the space, flooding it with sound, and then we  our film, ran a workshop led by storyteller and community builder Mark Gonzalez, in which we communicated and – crucially – engaged passers-by as well as invitees in dialogues around the theme of empathy.
As well as sharing knowledge and changing people's thinking, the event also created a new and unexpected context for encounter and honest dialogue: this is always a core aim st SCA and is the basis for James' ongoing working relationship with us.