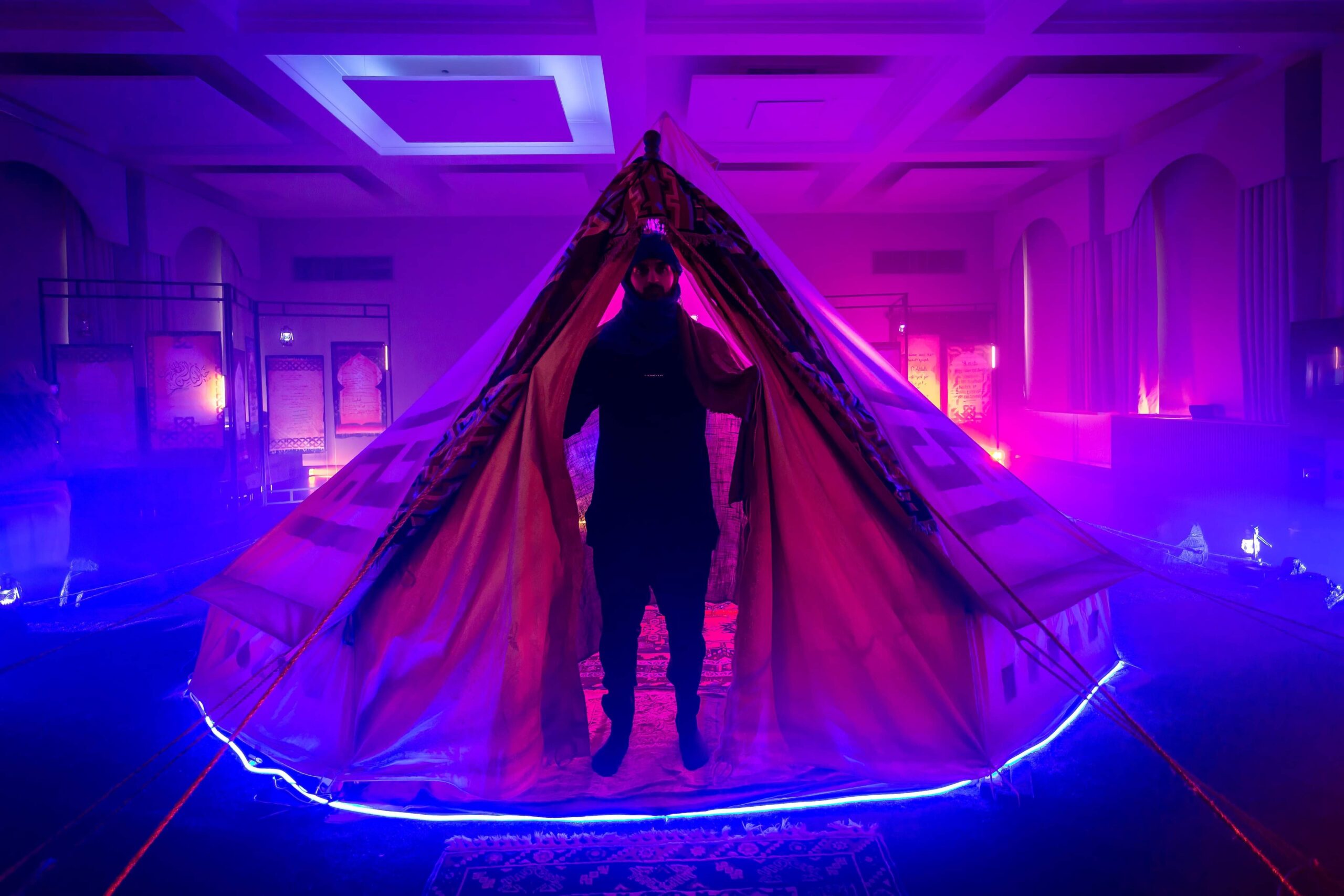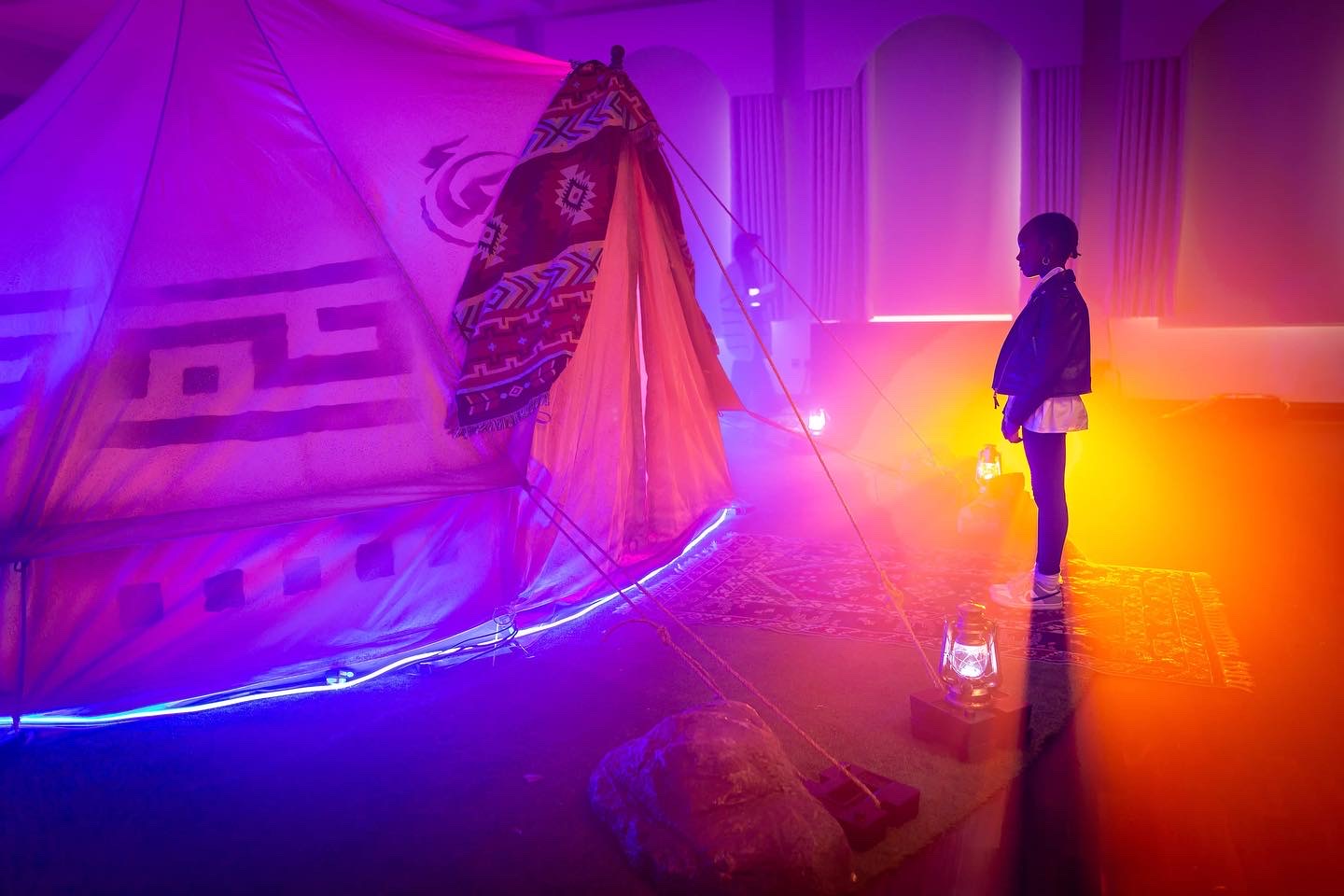 As part of the University of Birmingham's Culture Forward initiative, Soul City Arts created an installation entitled 'NOMAD' for Festival '23. The event took place on Thursday 3rd August 2023 from 11-4pm at the Exchange Building in Birmingham,
Artistic Director Mohammed Ali brought a specially made 'nomadic reflection booth' for the public to step inside and scribe and record their most cherished thoughts and du'as (prayers).
The installation was set up within the elegant Assembly Rooms in the University's Exchange building. Filmed recordings of the hopes, prayers and du'a expressed through the day were gathered in a same-day-edit and shared via a giant LED screen in Centenary Square that evening.

Mohammed said, "I have been developing a new concept called 'Nomad – A Tent for Reflection' that took place for one day during the Birmingham Festival '23. We created an installation inviting members of the public to step inside of, to share their prayers, hopes and reflections."
Between 11-4pm in the University of Birmingham Exchange's Assembly Room, messages were captured from the public in written and video form within a specially built 'Nomad' structure.
Following on from our exploration into what prayer and faith means in a modern society through our recent Waswasa show, artist Mohammed Ali invited attendees to the Festival23 into an intimate Nomadic tent structure that he created inviting the public to step inside of to share their prayers, hopes and reflections.
A selection of these filmed recordings were  live-edited for a short film to be shown on a giant LED screen in Centenary Square, on the same day at 6.45pm.
"Step inside and be honest with yourself", was the strapline of the event where members of the public entered this sacred, calming and peaceful space to reflect on some deep questions posed by our Actor Mustafa Chaudray, dressed in tradition Bedouin garments. Mustafa guided participants through a series of questions that were recorded in the tent and edited remotely.
There were tears, deep reflections and laughter as one after the other, participants shared their deepest feelings in the 'Tent for Reflection'.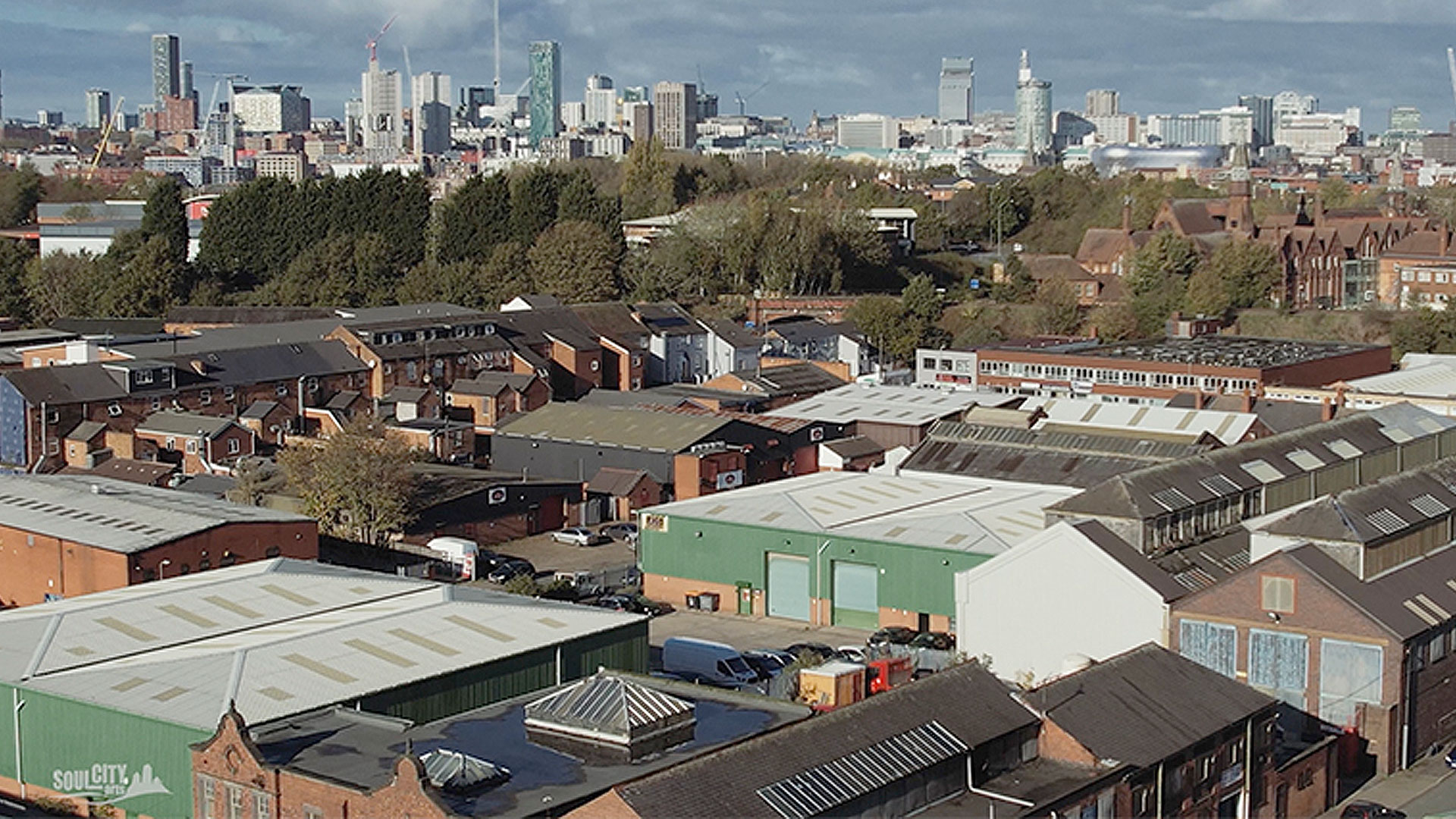 Culture Forward is a new initiative that aims to bring the University, the City, and Birmingham's cultural organisations into even closer and more creative conjunction.
Culture Forward takes its name from the City of Birmingham's dynamic motto; it takes its cue from the University of Birmingham's renewed commitment to its civic mission, and the success of the 2022 Commonwealth Games.
Culture Forward is co-defined, co-owned and co-delivered with local partners, and will rationalise and intensify University contributions to civic culture by:
Establishing and promoting a network of partner artists / organisations in the City, who will collectively devise a new strategy for the University's cultural engagement with the region.

Delivering a highly visible activity programme that brings together the University's academic strengths across education and research with the city's diverse cultural organisations.

Strengthening the relationship between the University and the City by addressing urgent issues of inequality and representation for Birmingham's diverse communities.