Reconnecting and Reactivating | A post-eid hybrid live stream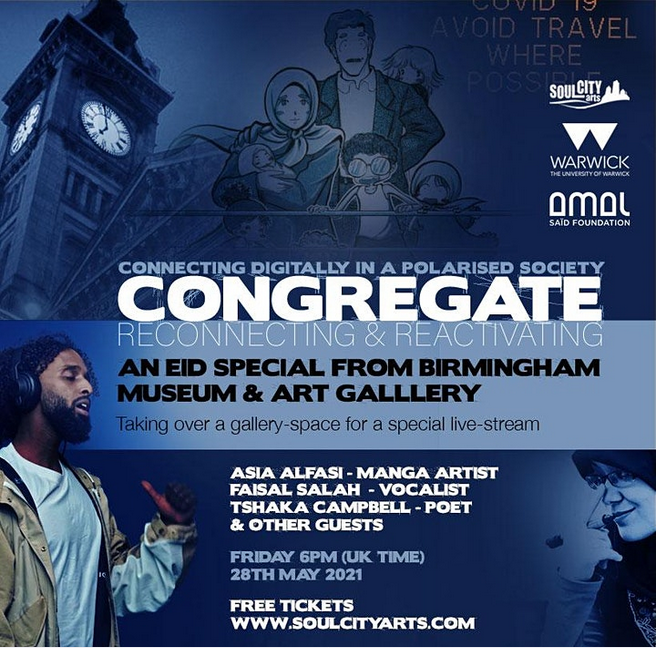 We've had over a year of lockdown amidst the global pandemic. It's also been a year since Congregate first began responding to that experience. Now, with the holy month of Ramadan just behind us, the Soul City Arts team invited guest artists from the UK and abroad, live from Birmingham Museum and Art Gallery (BMAG).
In a unique departure, we will streamed live from the Museum, with an artistic takeover of a gallery space while the museum remains closed to the public. We transformed the space through lighting, sound, and live artistic presentation. Cautiously, but with optimism, we both reconnected the artists and reactivated the Museum space for the first time since lockdown and in a way that has not been seen since before pandemic hit – in fact, in a way that has rarely been seen before within these four walls.
During the live streamed event, we reflected on a number of questions with our small socially distanced audience and online spectators. During difficult times have we become insular? Have we forgotten how to bond? Have our communities fragmented? And what has become of our places of worship and our civic spaces?
In tonight's special Mohammed Ali and SCA invite vocalist Faisal Salah, Manga artist Asia Alfasi and poet Tshaka Campbell to respond live to these themes both from within the gallery space and from their global locations. Join us to congregate once again.
Featuring:
Mohammed Ali (lead artist and curator); Manpreet Darroch (tech and presenter); James Hodkinson (presenter); Faisal Salah (guest vocal artist); Asia Alfasi (guest visual artist); Tshaka Campbell (US Poet); Sara Wajid (BMAG, guest speaker), Tasleem Jamila (US Musician)
Testimonials
Viewers to Congregate 3.0 offered their reflections on the event both from the perspective of the live audience in the gallery space and online.
"Congregate is a brilliant example of what can happen when people bring their minds and voices and ideas and creative talents together. As a fellow of the Institute of Engagement, James Hodkinson's work with Soul City Arts represents our deep commitment to meaningful collaboration and co-production. The University of Warwick is delighted to have supported the development of Congregate as innovative way of keeping us all connected, and keeping us thinking and talking and enjoying the arts, through lockdown and beyond." – Professor Helen Wheatley, Professor in Television and Media Studio, Unviersity of Warwick
"Thanks for the great efforts and beautiful results. Your livestream is an example of rich unique content. Really appreciate your creative energy, talent and commitment to making BMT relevant for all", Sara Wajid, Co-CEO, Birmingham Museum Trust
"I'd really like to commend the organisers of the Congregate Eid Special from the Birmingham Museum and Art Gallery on putting on such a unique and powerfully stimulating exploration of Art in peri-COVID environment. Such an uplifting engagement with a multitude of art expression that resonated with every fibre of our current challenges, portrayed in an accessible and gentle manner. Completely blown away by the breadth and depth of what was able to be achieved in such a short space of time with inspiring artists from all genres. Really enjoyed it", Dr Naveed Syed, Consultant in Public Health, Public Health England.
Credits:
Congregate 3.0 – Reconnecting and Reactivating
Live from Birmingham Museum and Art Gallery
Produced by Soul City Arts
Hosted by
Mohammed Ali MBE
Manpreet Darroch
James Hodkinson
Performances by
Faisal Salah
Tshaka Campbell
Tasleem Jamila
Live Art by
Asia Alfasi
Mohammed Ali MBE
Camera Operation by
Salshan
Technical Production by
Mohammed Ali MBE
Manpreet Darroch
James Hodkinson
Artistic Production by
Mohammed Ali MBE
Manpreet Darroch
A Soul City Arts Production
www.soulcityarts.com
@SoulCityArts