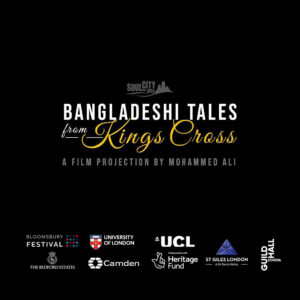 Artist Mohammed Ali celebrates the 50th anniversary of Bangladesh at the Bloomsbury Festival, bringing life to the frontages of the Holy Cross church and the British Library, with film projections telling the stories of early Bangladeshi migrants.
Speaking of the struggles, the hardships and the joys of making a new home in a foreign land, the interviews will extract the life and journeys of those who left the motherland of Bangladesh, at a time of political turmoil in the 70s
These interviews will be projected onto the front of the Holy Cross Church and then again onto the British Library at dusk during Bloomsbury Festival.
All welcome to attend!
#bd50 #bangladesh50

Dates, times and locations:
Holy Cross Church – Friday 15th October – 6.30pm
Cromer Street WC1H 8JU
The British Library – Sunday 17th October – 6.30pm
Euston Road NW1 2DB
We look forward to seeing you!