On Thursday 25th August 2022, our new show Waswasa: Whispers in Prayer opened its doors at the Patrick Studio of the Birmingham Hippodrome to a packed audience.
In our first major production since the pandemic, droves of the community, including those who have never visited a theatre before, joined us in our truly immersive show. A beautifully diverse audience of Muslims and non-Muslims alike packed into the Patrick Studio by meandering through the prayer tunnel, surrounded by graffitied prayer mats and the deepest, innermost personal prayers of a community.
Waswasa Show that concluded its 9 day run at the Birmingham Hippodrome's Patrick Studio as part of the Birmingham 2022 Festival. The show ran three times a day from Thu 25 Aug – Sat 3 Sep at 3pm, 6:30pm and 8:30pm to fully packed audiences in our as we transformed the Hippodrome into an immersive, sacred and reflective performance space.
On completing the show creator of Waswasa and Soul City Arts Artistic Director said, "I wanted to boldly and unashamedly create a celebration of Islamic prayer and portray it in a form never seen before. For too long many have had to constantly code-switch and leave our faith and culture off the table, suppress it and keep it hidden from public view.  That time is over and that's why Waswasa was needed".
A truly immersive experience in its multi-disciplinary approach, not only did audiences step through the prayer tunnel and through a cascade of graffitied prayer mats; the most innermost personal prayers of a community, they entered into the captivating Waswasa set where performance, visuals and theatrics collided. The show finished with a viewing of the world famous Birmingham Qur'an, a replica on loan from the University of Birmingham.We are grateful that Waswasa has received critical acclaim from audiences, critics and the media with regional and national features including BBC Radio 4, BBC Radio 2, BBC Midlands, Channel 4, ITV and the Islam Channel among many others featuring the show.
Audience reflections were captured: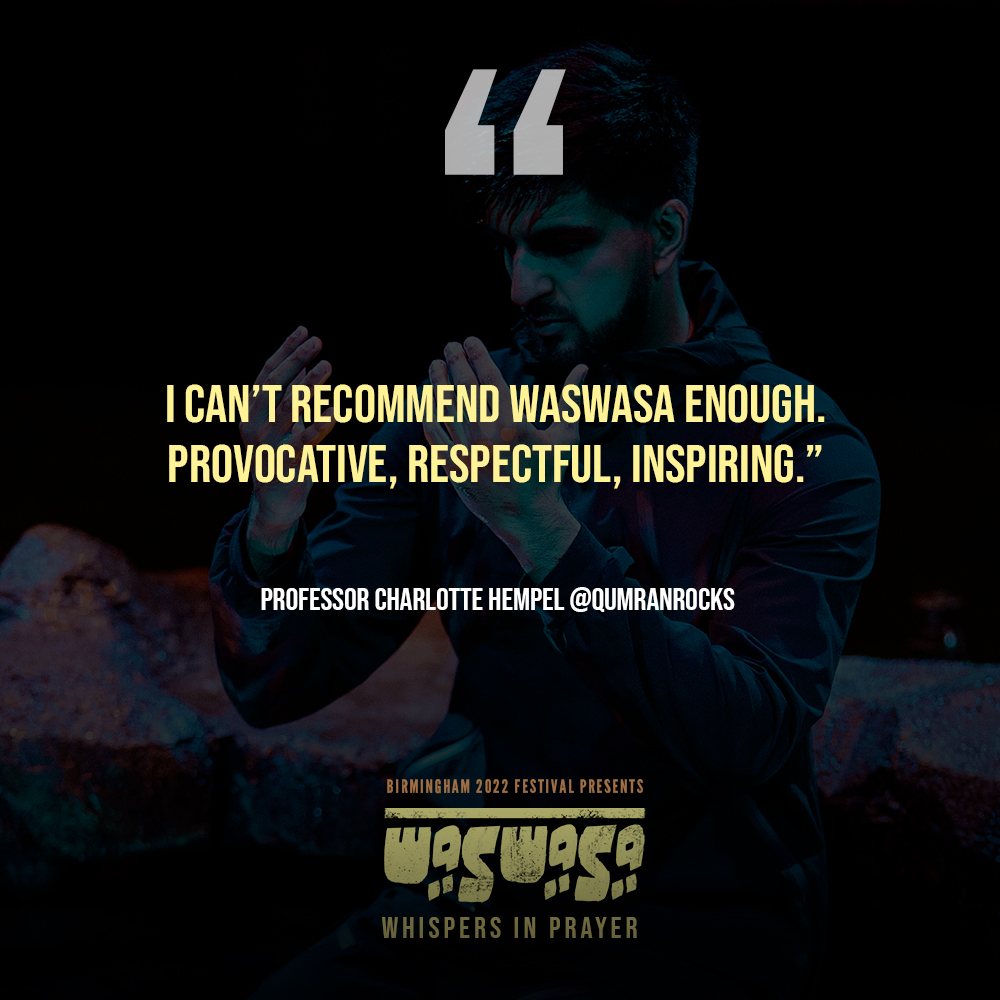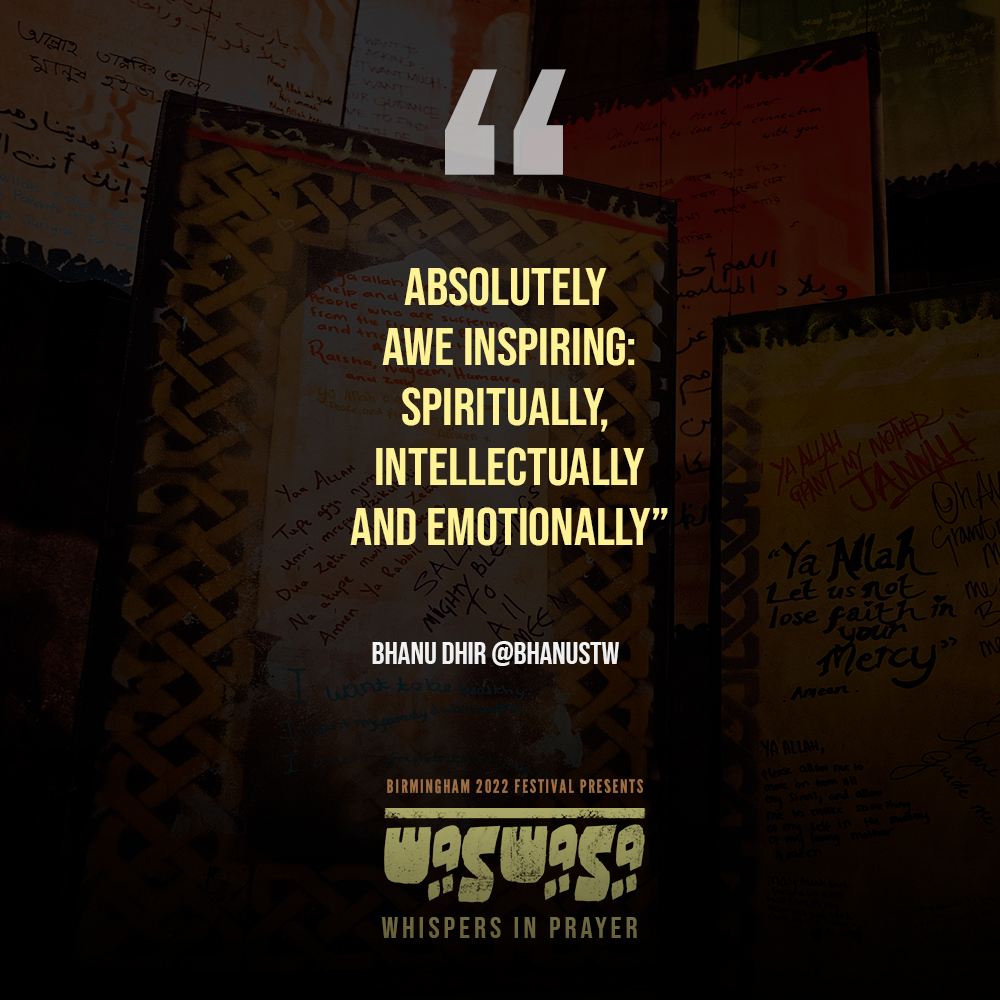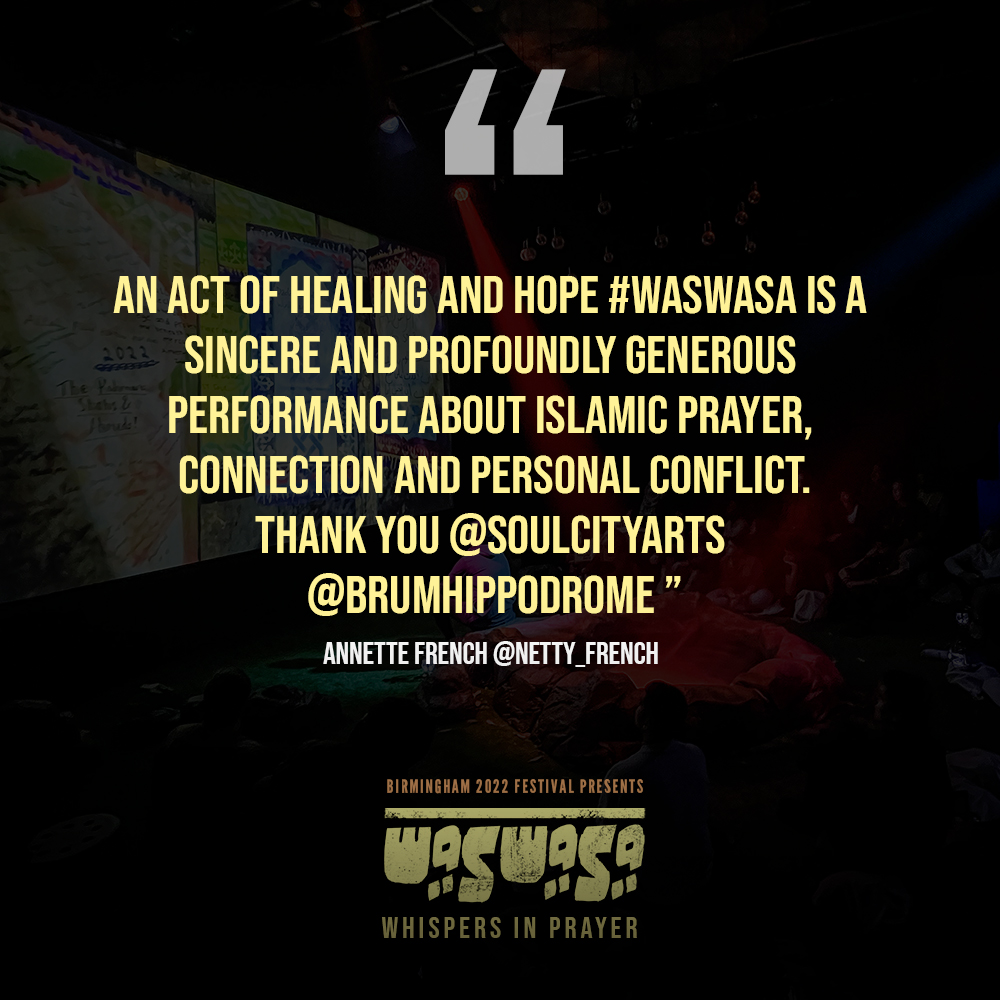 Soul City Arts brings stories, voices and realities of an often unheard community into extraordinary spaces as we transformed the Patrick Studio into a part art installation, part performance space and part exhibition.
The evening kicked off with two performances led by lead actor Mustafa Chaudhary as audiences moved from the prayer tunnel, immersing their thoughts in the thoughts and prayers of others, evoking an emotional connection with people they have never met before.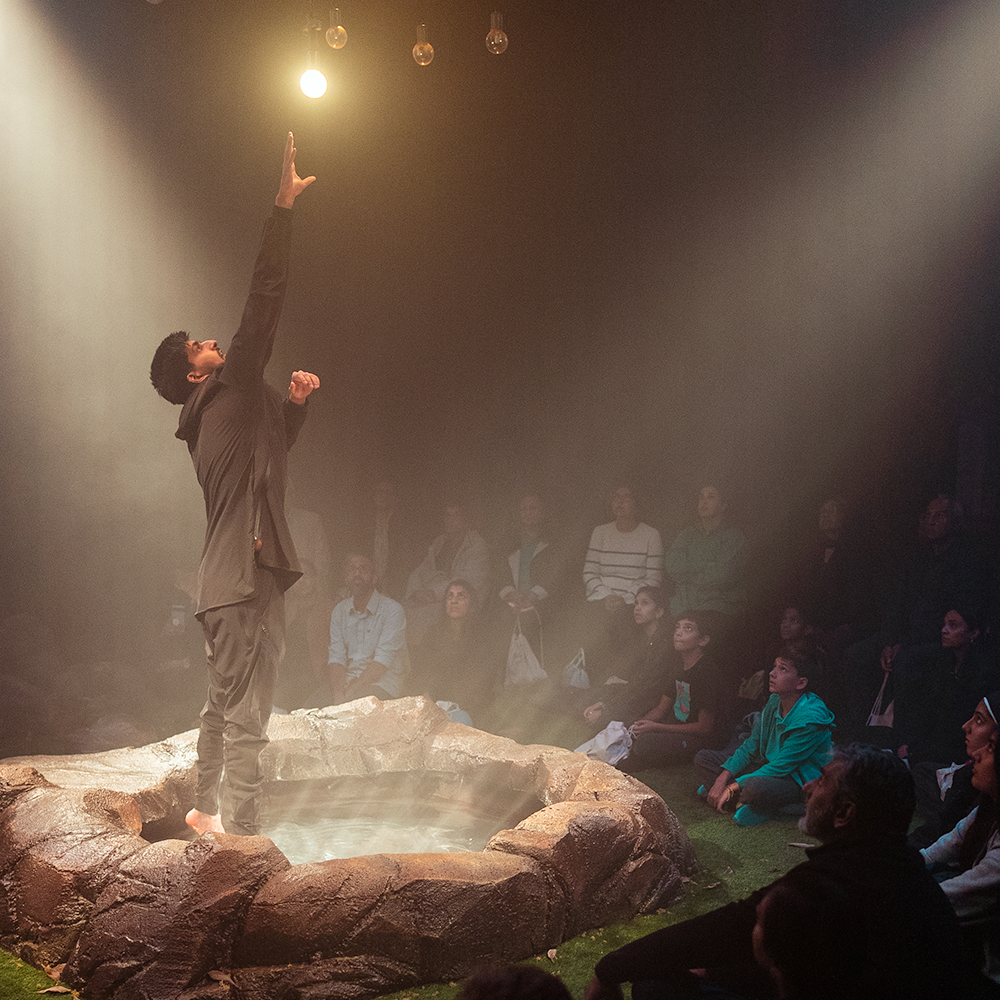 Waswasa: Whispers in Prayer was an incredibly collaborative effort.
We at Soul City Arts are eternally grateful and appreciate of all the supporters, collaborators and creatives that made Waswasa happen including the commission from the Birmingham 2022 Festival, part of the epic Commonwealth Games, the Heritage Lottery Fund and Arts Council England.
Waswasa was presented in association with the Birmingham Hippodrome, University of Birmingham, University of Warwick and the Guildhall Live Events.

Waswasa: Whispers in Prayer – Credits
Artistic Director & Creator
Mohammed Ali
Cast
Hamza Ali
Mustafa Chaudhry
Production Team
Art & Production Design | Matt Reeves
Executive Director | Rajpal Pardesi
Director | Hassan Mahamdallie
Movement Director | Anna Watkins
Marketing & Comms | Manpreet Darroch
Production Manager | Jonathan Samuels
Lighting Designer | Simon Bond
Production Consultant | Stuart Leech
Production Advancing | Milorad Zakula
Sound Designer | Clive Meldrum
Stage Manager | Laura Stone
Assistant Stage Manager | Shuayb Zaman
Lighting Assistant | Luis Callendar
CAD Designer | Ebrahim Nazier
Set Build | Seedbed Studios
Fabricators | Floating Traders
Scenic Painter | Graham Kershaw
Production Assistant | Max Reeves
Production Assistant | Finn Reeves
Film Team
Lead Videographer | Salshan Cinematography
Video Support | Salman H
Film Support | John Bradburn
Editing | Mohammed Ali
Musical Team
Lead Musician | Jack Baggott
Music Support | Shoummo Saha (Bangladesh)
Iyas Mao (Canada)
Muadh Dzulkefly (Malaysia)
Faisal Salah (London)
Thanks to
The B2022 Festival team
The Birmingham Hippodrome team
University of Birmingham
Warwick University
Guildhall Live Events
Guildhall School of Music and Drama
Soul City Arts Board
Further Thanks
Green Lane Mosque
Ishaac Mohammed
Rashid Campbell
Councillor Waseem Zaffar
Jonnie Turpie
Media and Advertising Partners
Radio XL
Islam Channel
Unity FM
Dee Mcourt (Borkowski)
Jack Arts Build Hollywood
Giving Thanks
We appreciate all of those who helped to make Waswasa happen. It is a dream made reality with the help of our team and the entire community.
We wish to thank the Birmingham 2022 Commonwealth Games for supporting Waswasa and sharing the vision.
The University of Birmingham, University of Warwick, and Guidhall School of Music & Drama have also offered invaluable support. We truly appreciate the opportunity to welcome these academic powerhouses into our world, and look forward to building with them in the future.
Our new studio and production base in the heart of Sparkbrook was made possible with the support of Birmingham City Council, in particular the efforts of Councillor Waseem Zaffar. Beyond the Birmingham 2022 Commonwealth Games, our space will continue to serve the community, bringing arts to the people every day.
To conclude we wish to thank the community that gathered weekly and offered their prayers to us – We appreciate your generosity in sharing these personal dreams and reflections.
Waswasa was made for the community. The voice of the community is the foundation of this show, and more broadly, at the very heart of what we do at Soul City Arts. Our approach places people at the top of everything we do: valuing, respecting and honouring the community.
Thank you.
Mohammed Ali
Artist & Founder of Soul City Arts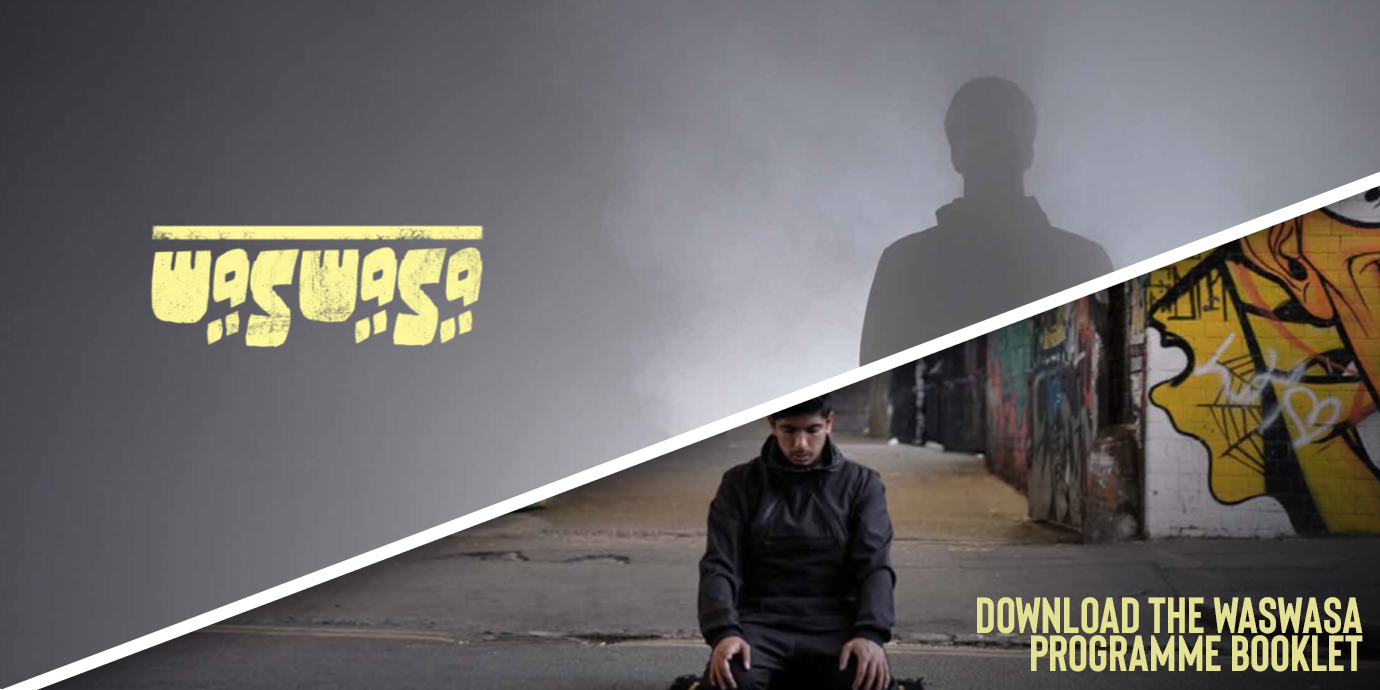 About the Team
Matt Reeves works extensively in feature film, television and theatre, Matt brings all of his experience through digital illustration, scenic painting and production design to Waswasa. Matt has worked closely with Mohammed for over a decade.
Rajpal Pardesi is a senior arts professional with a highly successful background in Dance, Theatre, Music and Festivals spanning 25 years. He joined Soul City Arts at a pivotal stage for the organisation and played a key role in the Birmingham 2022 Festival Commission, Waswasa.
Hassan Mahamdallie is a playwright and director. He is a former Director of the Muslim Institute, he is senior editor on its journal Critical Muslim. Hassan is the founder of theatre company Dervish Productions whose new play Quiet Rebels tours nationwide this autumn, which also has been supported by Mohammed Ali with its film content
Anna Watkins is a choreographer, director and movement director. She has toured her company Watkins Dance Company across the UK & Internationally. Anna is humbled and excited to be working with Soul City Arts on 'Waswasa' as Movement Director.
Helga Henry is a skilled leader of groups, event host and speaker, Helga is a specialist in bringing strategy to life by building communication skills and confidence. She provides essential support to Soul City Arts as a board member and development consultant.
Jack Baggott has a wealth of experience in the world of theatre, spanning sound design and composition, alongside an ability to compose, mix and master music.
Simon Bond is now a freelance lighting designer after many years at Birmingham Repertory Theatre. He has previously worked with Soul City Arts on the 'Writing on the Wall' show in 2009 at the The REP.
Jonathan Samuels designed and managed several permanent installations of technical infrastructure in theatres, schools, event spaces and churches.. His career spans many years as a creative Lighting Designer, Production Manager, Trainer and Technician.
Manpreet Darroch is a radio host and youth engagement and communications specialist, Manpreet designs and develops artistic programmes that explore arts and social justice. He has been a key team member of Soul City Arts for over a decade.
James Hodkinson is a Reader in German Studies at the University of Warwick. His research specialism is Islam in European history and culture. He works at connecting academia meaningfully with society through arts and outreach programmes. James has been a key partner in developing Waswasa, especially in preparation for a tour in Australia.